Description
Edit
Stuffed aubergines (little shoes)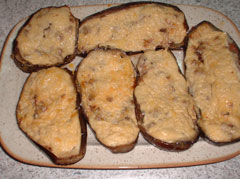 Ingredients
Edit
Directions
Edit
Cook covered for about 15 minutes.
Remove from heat.
On the 'top' of each aubergine, peel an inch strip from one end to the other and make an incision along strip to within an inch of each end.
Place in baking dish and bake in moderate oven (about 350°F) until soft and light brown (about 30–45 minutes).
Insert knife blade into incision and stuff with meat mixture.
Prepare bechamel sauce.
Pour about a tablespoon on top of each aubergine.
If desired, add tomato sauce to the pan.
Bake in a moderate oven for about 35 minutes.
Ad blocker interference detected!
Wikia is a free-to-use site that makes money from advertising. We have a modified experience for viewers using ad blockers

Wikia is not accessible if you've made further modifications. Remove the custom ad blocker rule(s) and the page will load as expected.