Description
Edit
Baked Eggplants. Try them with a cheese garnish!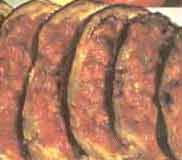 Ingredients
Edit
Directions
Edit
Sauté the onions in a frying pan.
Mash the garlic cloves in a mortar.
Mix the tomato mash with the garlic.
Wash the eggplants.
Slice them horizontally in slices of 1½ cm width.
Butter a square pan and place the aubergine slices.
Boil the tomato mash with the onions for a while.
Then, pour the tomato mixture into the eggplant slices.
Preheat the oven in 200°C and bake for 45 minutes.
Ad blocker interference detected!
Wikia is a free-to-use site that makes money from advertising. We have a modified experience for viewers using ad blockers

Wikia is not accessible if you've made further modifications. Remove the custom ad blocker rule(s) and the page will load as expected.