Description
Edit
This makes a wonderful luncheon salad or a first course for a dinner party. The amount of ingredients you can put on a plate is limited by the size of the plate. The following recipe is for 1 serving, however, just multipy the ingredients for additional servings.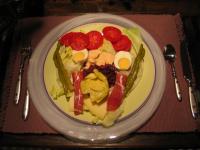 Ingredients
Edit
Directions
Edit
Line dinner plate with lettuce leaves.
cut the hardboiled egg in half.
Arrange all other items on the plate including the egg with artistic flare.
The picture should give you an idea.
Serve with a vinegarette dressing on the side.
Other Links
Edit
See also
Edit
Ad blocker interference detected!
Wikia is a free-to-use site that makes money from advertising. We have a modified experience for viewers using ad blockers

Wikia is not accessible if you've made further modifications. Remove the custom ad blocker rule(s) and the page will load as expected.