Description
Edit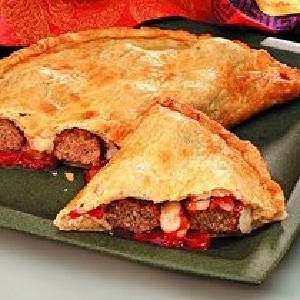 Contributed by Catsrecipes Y-Group
Ingredients
Edit
Directions
Edit
Heat oven to 425°F.
Line a baking sheet with nonstick foil.
Unroll crust on a cutting board and stretch dough to a 12 inch square, cut in quarters.
Transfer to baking sheet.
Pour sauce into a bowl, distribute meatballs in centers of squares.
Top each with ¼ cup cheese.
Fold corner to corner to form triangles.
Press edges to seal, poke holes in top.
Sprinkle with basil or oregano.
Bake 13 minutes or until golden.
Heat remaining sauce to serve on the side.
Ad blocker interference detected!
Wikia is a free-to-use site that makes money from advertising. We have a modified experience for viewers using ad blockers

Wikia is not accessible if you've made further modifications. Remove the custom ad blocker rule(s) and the page will load as expected.