Description
Edit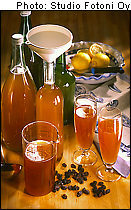 Ingredients
Edit
Directions
Edit
Wash the lemons and peel them thinly. Remove the pith. Slice the lemons and place them with the peel and Sugar in a sufficiently large vessel.
Bring half of the water to the boil and pour it over the lemons, peel and Sugar. Stir and leave to stand covered for a while. Add the rest of the water cold. When the liquid is lukewarm add the yeast.
Keep the mead at room temperature until it starts to ferment, i.e. about one day. Put a couple of Raisins and 1 tsp of Sugar into clean bottles, and strain the mead into the bottles. Loosely cork the bottles and store them in a cool place. The mead is ready when the Raisins rise to the surface.
Other Links
Edit
See also
Edit
Ad blocker interference detected!
Wikia is a free-to-use site that makes money from advertising. We have a modified experience for viewers using ad blockers

Wikia is not accessible if you've made further modifications. Remove the custom ad blocker rule(s) and the page will load as expected.