---
This article needs some work. You can help by adding some more information to it.
---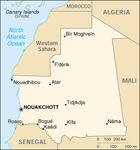 Some popular Mauritanian dishes include Mechoui (roast lamb), dates, spiced fish and rice with vegetables, fish balls, dried fish, dried meat and couscous. Popular drinks include zrig (camel's milk) and sweet Arab tea with mint.
Preparation Methods for Mauritanian Cooking
Edit
Special Equipment for Mauritanian Cooking
Edit
Ranging from cake pans, can openers, colanders, egg rings, poachers and holders, food dishers & portioners, food pans & food containers to other kitchen utensils, such as food scales, food scoops, frying baskets, & accessories, the equipment used for Mauritanian cooking is diverse, and is used to great effect in order to produce the most sophisticated Mauritania dishes. You should consider insulated food carriers if you are transporting food, as well as a full set of kitchen linen and uniforms if you wish to look like a pro. Here are a few other items that will come handy when cooking Mauritanian food: juicers, kitchen knives, kitchen slicers, kitchen thermometers, measuring cups & measuring spoons, miscellaneous utensils, mixing bowls, skimmers, and strainers. Essential utensils like serving spoons, spatulas, forks, turners, scrapers and tongs should also be part of your cooking "arsenal".
Mauritanian Food Traditions and Festivals
Edit
People in Mauritanian Food
Edit
Are you into Mauritanian Cooking? Would you like to be interviewed?
Ad blocker interference detected!
Wikia is a free-to-use site that makes money from advertising. We have a modified experience for viewers using ad blockers

Wikia is not accessible if you've made further modifications. Remove the custom ad blocker rule(s) and the page will load as expected.