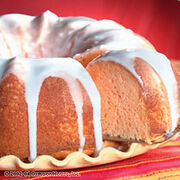 Ingredients
Edit
Directions
Edit
Preheat oven to 350°F (175°C).
Grease and flour a 10 inch bundt pan.
In a large bowl combine cake mix, pudding mix, eggs, oil, water, lemon juice ¼ cup tequila and 2 tablespoons triple sec.
Beat for 2 minutes.
Pour batter into prepared pan.
Bake in the preheated oven for 45 to 50 minutes, or until a toothpick inserted into the center of the cake comes out clean.
Cool in pan for 10 minutes; remove to rack and pour glaze over cake while still warm.
In a small bowl, combine confectioners' sugar with 1 tablespoon tequila, 2 tablespoons triple sec and 2 tablespoons lime juice.
Mix until smooth.
Ad blocker interference detected!
Wikia is a free-to-use site that makes money from advertising. We have a modified experience for viewers using ad blockers

Wikia is not accessible if you've made further modifications. Remove the custom ad blocker rule(s) and the page will load as expected.