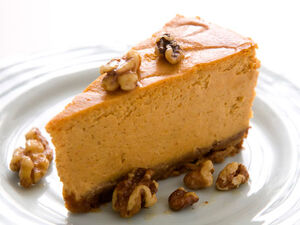 Ingredients
Edit
Directions
Edit
Preheat oven to 325º.
With mixer, beat cream cheese until fluffy.
Pour into prepared pan.
Bake 1 1/4 hours or until center appears nearly set when shaken.
Cool 1 hour. Cover and chill at least 4 hours.
To serve, spoon some Maple pecan Sauce over cheesecake.
Garnish with whipped cream and pecans if desired.
Pass remaining sauce.
Store leftovers covered in refrigerator.
Maple pecan Glaze
Edit
In medium-sized saucepan, combine 1 cup (1/2pint) whipping cream 3/4 cup pure maple syrup bring to a boil.
Boil rapidly 15 to 20 minutes or until slightly thickened; stir occasionally.
Stir in 1/2 cup chopped pecans.
Cover and chill until served.
Stir before servings.
Ad blocker interference detected!
Wikia is a free-to-use site that makes money from advertising. We have a modified experience for viewers using ad blockers

Wikia is not accessible if you've made further modifications. Remove the custom ad blocker rule(s) and the page will load as expected.