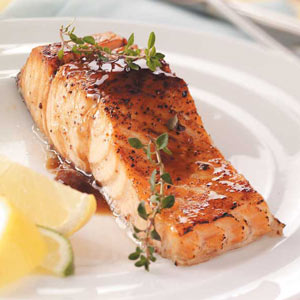 Contributed by
Catsrecipes Y-Group
Ingredients
Edit
Directions
Edit
Heat oven to 450 °F.
Shake soy sauce and syrup in plastic bag to mix.
Add salmon. Close, refrigerate 40 min.
Microwave sweet potatoes on high 5 min. or until slightly tender. Let cool.
Cut diagonally across into slices. Spray slices on both sides with cooking spray. Set aside.
Heat grill.
Remove salmon from marinade. Pour marinade into saucepan. Set aside.
Grill salmon 5 min. per side or until opaque in the center. Remove and keep warm.
Add sweet potatoes and onions and grill 5 min.
Turn and add asparagus. Cook veggies another 5 min. Test doneness of sweet potatoes. Sprinkle salmon and veggies with salt and pepper.
Boil marinade in saucepan 5 min. or until thickened.
Brush salmon and veggies with marinade.
Ad blocker interference detected!
Wikia is a free-to-use site that makes money from advertising. We have a modified experience for viewers using ad blockers

Wikia is not accessible if you've made further modifications. Remove the custom ad blocker rule(s) and the page will load as expected.