Description
Edit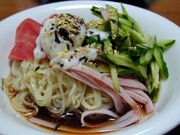 This recipe is kind of a copy cat of a dressing from a local restaurant that, in the last few years has been available by the bottle in local supermarkets. I have been to MANY a Japanese restaurant and I have had yet to find a dressing I enjoy as much as this one....most are too sweet and cloying for my taste. I think this recipe is pretty close to the original (which if you haven't tasted it, it is hard to appreciate how close it really is). I hope you enjoy it!
Ingredients
Edit
Directions
Edit
Combine ingredients in a blender and process until fairly smooth.
Store in the refrigerator.
Ad blocker interference detected!
Wikia is a free-to-use site that makes money from advertising. We have a modified experience for viewers using ad blockers

Wikia is not accessible if you've made further modifications. Remove the custom ad blocker rule(s) and the page will load as expected.