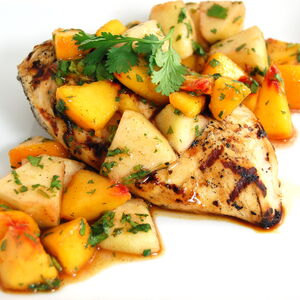 Contributed by
World Recipes Y-Group
This recipe makes 4 servings.
Ingredients
Edit
Directions
Edit
Prepare outdoor grill.
From lime, grate 1½ tsp peel and squeeze 2 tbsp juice.
In bowl, stir together lime juice, melon, peach, basil, and ¼ tsp salt.
Makes 4 cups salsa.
Place chicken on plate.
Place chicken on hot grill.
Cover grill and cook chicken 12 minutes.
Or until juices run clear when pierced.
Arrange chicken on platter and serve with salsa.
Ad blocker interference detected!
Wikia is a free-to-use site that makes money from advertising. We have a modified experience for viewers using ad blockers

Wikia is not accessible if you've made further modifications. Remove the custom ad blocker rule(s) and the page will load as expected.