Description
Edit
The Shetland Islands' proximity to Scandinavia is evident in its traditional celebration "Up-Helly-A", during which the Shetland inhabitants, dressed as Vikings, carry a long-boat through the streets of Lerwick and later set it on fire! Norse influence is also evident in the food traditions of the Shetlanders.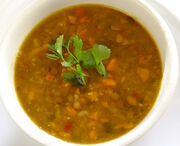 Ingredients
Edit
Directions
Edit
Season with salt and black pepper and add the stock.
Bring to the boil and simmer for 2 hours.
Adjust the seasoning to taste and serve garnished with parsley.
Ad blocker interference detected!
Wikia is a free-to-use site that makes money from advertising. We have a modified experience for viewers using ad blockers

Wikia is not accessible if you've made further modifications. Remove the custom ad blocker rule(s) and the page will load as expected.