Description
Edit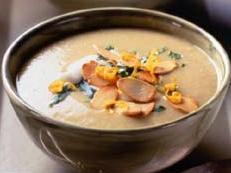 Ingredients
Edit
Directions
Edit
Add the parsnips and cook, stirring for another 2 – 3 minutes.
Add the ground cumin, vegetable stock and chopped parsley.
Bring to the boil and simmer gently for about 20 minutes or until the parsnips are tender.
Transfer the mixture to a food processor or blender and liquidise until smooth.
Ladle the soup into bowls, then garnish with crème fraîche or soured cream, toasted flaked almonds, parsley sprigs and lemon rind.
Ad blocker interference detected!
Wikia is a free-to-use site that makes money from advertising. We have a modified experience for viewers using ad blockers

Wikia is not accessible if you've made further modifications. Remove the custom ad blocker rule(s) and the page will load as expected.