Description
Edit
Herb Salad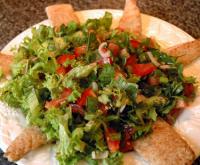 Ingredients
Edit
2 whole-Wheat pita bread
3 tbls fresh Parsley, chopped
3 tbls fresh mint, chopped
3 tbls cilantro, chopped
2 scallions, thinly sliced
1 red pepper or green pepper, thinly sliced
3 medium tomatoes, diced
4 cups lettuce, chopped and washed
1 tbls sumak
4 tbls olive oil
2 lemons, juiced
1/2 tspn cinnamon
salt, to taste
fresh ground pepper, to taste
Directions
Edit
Place the herbs, lettuce, cilantro, scallions, pepper and tomatoes in a bowl. Separately, whisk together the olive oil, lemon juice, cinnamon, salt and pepper. Toss the dressing together with the salad and let rest for 15 minutes. About 5 minutes before you want to eat, toast the pita breads and then cut each in half crossways. Cut each half into 3 strips to make 12 pieces. Arrange 6 strips around each plate and heap the salad in the middle.
Other Links
Edit
See also
Edit
Ad blocker interference detected!
Wikia is a free-to-use site that makes money from advertising. We have a modified experience for viewers using ad blockers

Wikia is not accessible if you've made further modifications. Remove the custom ad blocker rule(s) and the page will load as expected.