Lebanese Cuisine
Comment

1
42,280pages on
this wiki
---
This article needs some work. You can help by adding some more information to it.
---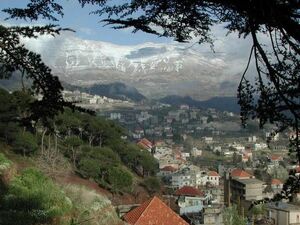 Lebanon - Cooking and Food
Edit
Overview of Lebanese Cuisine History
Edit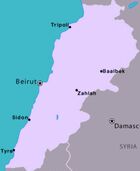 The cuisine of Lebanon has integrated many cooking concepts through the centuries, from the countries in the Mediterranean area. However, people chose to make use of the local ingredients and to use certain cooking techniques in order to create some exceptional dishes and to give the Lebanese cuisine a unique identity. Although the influences were many, the territory of the country is small and all the cooking concepts that were adopted began to be practiced by the entire population of Lebanon. Hence, there are not any regional cuisines inside the country, or different cooking styles between people from one part of the country and the others.
Preparation Methods for Lebanese Cooking
Edit
When preparing kibbeh in ancient times, people used to smash with a pestle the Lamb meat inside a bowl or a mortar. Although this technique is considered scary by the ones that are strangers to the Lebanese cuisine, the resulting dish is a delicacy. Fortunately, since the cooking equipment has been developed, this method is not used anymore. The other methods that are popular in Lebanon are not typical only to this country, whatsoever. They are used in many other countries from Europe and Middle East. Each dish, nevertheless, requires being prepared in a certain way. Furthermore, each ingredient that is added to a dish may undergo one of the following cooking methods: frying, boiling, stewing, roasting, salting, drying and smoking. People from Lebanon use high quantities of herbs and spices, in order to enhance the flavor of the dishes. Therefore, seasoning is another cooking method that is widely used in the Lebanese cuisine.
Special Equipment for Lebanese Cooking
Edit
The cooking equipment that is used in Lebanon was developed, in time. At first, people used a mortar named jorn and moddaqa – a tool that is similar to a pestle, to prepare the traditional dish of Lebanon, which is kibbeh. Later, when grinders and food processors began to be used in the Lebanese kitchen, these utensils became useless. However, they are still used in the rural areas of the country, by the poor people.
Besides these, the cooking tools that can be found in a typical Lebanese cuisine are similar to those that are used in Europe and in Northern America. The equipment that is utilized for preparing, storing and serving foods includes, but does not resume to: kitchen knives, forks, teaspoons, tablespoons, food scoops, turners, graters, grinders for spices, as well as boxes for storing them, plates, pans, trays, pots, bowls and devices for measuring the temperature and the weight. Food scales are used for adding ingredients to a recipe in certain quantities, while kitchen thermometers help when preparing the dishes at a certain temperature is desired. This way, overcooking is avoided.
Most Lebanese dishes don't require you to purchase any special tools. However, having a coffee grinder helps with roasting and grinding spices and maximizes their volatile oils, which, in turn, provides your food with more flavor.
Lebanese Food Traditions and Festivals
Edit
People from Lebanon are proud of their traditional dishes and this fact explains the fame of the Lebanese cuisine. Dishes that once were unknown outside the country are now consumed in restaurants from all over the world. The traditional foods are honored at festivals or any other similar events. There are many such events in Byblos, Baalbeck and Beirut. Although many of the festivals may not focus on the traditional foods, each of these events represents a great opportunity for the tourists to try the Lebanese foods and for the local people to display their delicacies.
Festivals that have as main goal promoting the traditional Lebanese foods are not organized only in Lebanon. There are events that are planned outside the borders of the country by the communities of Lebanese people that live in the other countries. For example, in Texas, a Lebanese Food Festival is organized each year. These festivals are good occasions for people from Lebanon to display their national dishes and drinks. Also, there are many competitions organized at these festivals.
People in Lebanese Food
Edit
Are you into Lebanese Cooking and would like to be interviewed?