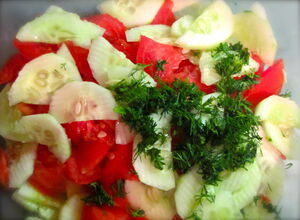 Prep Time: 20 min
Cook time: 0
Serves: 4-6
Description
Edit
A tasty late summer salad.
Ingredients
Edit
3-4 Tomatoes
2-3 Cucumbers
1/2 cup Green onions or chives
2 Tbsp fresh Dill
3/4 cup Sour Cream (OPTIONAL)
Sea salt to taste
White or Black pepper to taste
Directions
Edit
Quarter the tomatoes lighty salt to bring out the flavor.
Cut the cucumbers in half, remove the seeds, then slice into 1/4 inch wide pieces(crescent moon shaped).
Add sour cream. (OPTIONAL)
Add green onions/chives to taste.
Add dill to taste.
Add salt to taste
Add white pepper to taste.
Stir or fold gently to avoid breaking up the tomatoes
Chill in fridge for 10 minutes
Serve; sometimes a tiny bit more salt brings out the flavors
Variations: I like to use heirloom tomatoes for their depth of flavor, English cucumbers for their bold flavors, all natural sour cream, and sometimes parsley instead of dill. Try with a thin slice of Latvian sour dough or rye bread.The ratio of ingredients can be adjusted any way you like. I tend to eyeball it.
Ad blocker interference detected!
Wikia is a free-to-use site that makes money from advertising. We have a modified experience for viewers using ad blockers

Wikia is not accessible if you've made further modifications. Remove the custom ad blocker rule(s) and the page will load as expected.