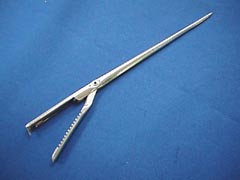 A special tool used to Lard meats. There are many styles, but the most common is one that has a sharp, pointed tip and a hollow body. A long, thin strip of the larding agent (usually pork fat or bacon) is inserted into the tool's hollow cavity and the needle is then used to thread the fat through the meat.
Ad blocker interference detected!
Wikia is a free-to-use site that makes money from advertising. We have a modified experience for viewers using ad blockers

Wikia is not accessible if you've made further modifications. Remove the custom ad blocker rule(s) and the page will load as expected.