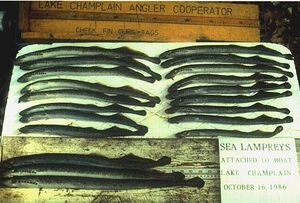 Varieties of this long (about 21 inches), Eel-shaped fish are found in both fresh and marine waters. it has a delicately flavored but extremely fatty flesh, which makes it indigestible for many people. Lamprey can be cooked whole (if small to medium) or in pieces. It's usually braised in wine, but is suitable for other manners of cooking such as baking or sautéing.
Ad blocker interference detected!
Wikia is a free-to-use site that makes money from advertising. We have a modified experience for viewers using ad blockers

Wikia is not accessible if you've made further modifications. Remove the custom ad blocker rule(s) and the page will load as expected.