Description
Edit
Leg of Lamb, roasted over potatoes makes a very nice dinner and is easy to prepare. The whole dish needs 1½ hour in the oven and requires almost no attention during cooking.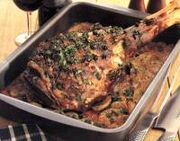 Ingredients
Edit
Directions
Edit
Prepare the potatoes and cut into slices.
Spread in a greased ovenproof dish and add water and white wine.
Season with salt, pepper, rosemary and garlic.
Rub the leg with salt, pepper, rosemary and halved cloves of garlic.
Place the leg of Lamb on top of the potatoes.
Place the dish in a preheated oven at 200° (390 °F).
Make sure the potatoes does not dry out, add additional water if they do.
Carve the meat and serve with the potatoes, a salad and some good bread.
Other Links
Edit
See also
Edit
Ad blocker interference detected!
Wikia is a free-to-use site that makes money from advertising. We have a modified experience for viewers using ad blockers

Wikia is not accessible if you've made further modifications. Remove the custom ad blocker rule(s) and the page will load as expected.