Description
Edit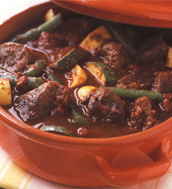 Chockful of tender Lamb, this hearty stew is a delicious departure from the standard Beef version. Lamb stew meat is tasty, inexpensive and underused—at least on this side of the Atlantic.
Ingredients
Edit
Directions
Edit
Dredge lamb pieces in mixture.
In a large Dutch oven or pot with a tight-fitting lid, heat oil over medium heat.
Brown lamb in batches; transfer to a plate.
Return lamb and accumulated juices to dutch oven.
Add tomatoes, water, vinegar and sugar substitute.
Bring to a boil; reduce heat to low, and simmer until lamb is almost tender, 1 hour and 15 minutes.
Add green beans and squash to Dutch oven; mix well.
Cook, partially covered, until vegetables are tender, 15 minutes.
Ad blocker interference detected!
Wikia is a free-to-use site that makes money from advertising. We have a modified experience for viewers using ad blockers

Wikia is not accessible if you've made further modifications. Remove the custom ad blocker rule(s) and the page will load as expected.