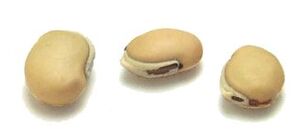 Name Variations
Edit
hyacinth bean
bonavist bean
Egyptian bean
Fuji mame
Indian bean
About Lablab bean
Edit
Wikipedia Article About Lablab bean on Wikipedia
The Hyacinth Bean (Dolichos lablab, syn. Lablab purpureus), also called Indian Bean and Egyptian Bean, is a plant of the family Fabaceae is a species of bean widespread as a food crop throughout the tropics, especially in Africa. It is also grown as forage and as an ornamental plant.
The fresh beans are called dolichos beans.
Ad blocker interference detected!
Wikia is a free-to-use site that makes money from advertising. We have a modified experience for viewers using ad blockers

Wikia is not accessible if you've made further modifications. Remove the custom ad blocker rule(s) and the page will load as expected.