Description
Edit
Labaneh is yogurt cheese, a wonderful invention for everything from pasta to sandwich spread. It takes a minimum of 8 hours to drain the yogurt, transforming it into cheese, and the cheese can be refrigerated for several days.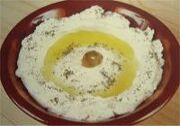 Ingredients
Edit
Directions
Edit
Line a strainer with 2 layers of cheesecloth; place the strainer over a bowl and pour the yogurt into the strainer; set aside at room temperature for at least 8 hours or until very, very thick.
Refrigerate.
Ad blocker interference detected!
Wikia is a free-to-use site that makes money from advertising. We have a modified experience for viewers using ad blockers

Wikia is not accessible if you've made further modifications. Remove the custom ad blocker rule(s) and the page will load as expected.