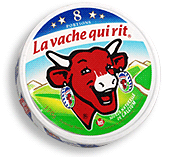 About La vache qui rit
Edit
Wikipedia Article About La vache qui rit on Wikipedia
The Laughing Cow is a brand of processed cheese products owned by The Bel Group. Originally launched in France as La vache qui rit in 1921, the brand is now sold in more than 90 countries. The laughing cow is almost always depicted wearing earrings.
Ad blocker interference detected!
Wikia is a free-to-use site that makes money from advertising. We have a modified experience for viewers using ad blockers

Wikia is not accessible if you've made further modifications. Remove the custom ad blocker rule(s) and the page will load as expected.