Description
Edit
This soup (vegetable lamb soup) can be served as a main course because it is nutritious and fills you up with whole wheat (tum bugday) and plenty meat, while vegetables balance out the meal. we recommend that you serve this soup with toasted wheat or pita bread.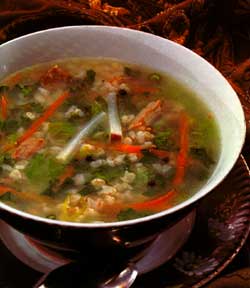 Ingredients
Edit
Directions
Edit
Soak wheat in warm water overnight or 4 – 5 hours cook wheat until soft cook cubed lamb, onion, wheat, spinach, round carrot, round leek in 3 cups of water 45 minutes add salt and pepper then sauté, strip of carrot, strip of squash and leek in butter for 2-3 minutes.
Add all and cook another 5 minutes.
Ad blocker interference detected!
Wikia is a free-to-use site that makes money from advertising. We have a modified experience for viewers using ad blockers

Wikia is not accessible if you've made further modifications. Remove the custom ad blocker rule(s) and the page will load as expected.