Description
Edit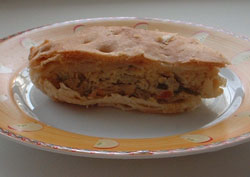 Onion pie
Ingredients
Edit
Directions
Edit
Soak the onions for an hour to reduce their strong taste.
Mix all ingredients well.
The sheets should come up above the top of the pan.
Do not forget to oil each sheet separately.
Spread the mixture on top of the bottom sheets and fold over the sheets.
Place the remaining sheets on top.
oil them each one separately and slice off any parts of the top sheets that have remained.
Score the top sheet with a knife into squares.
Bake for an hour in 180°C - 200°C.
Ad blocker interference detected!
Wikia is a free-to-use site that makes money from advertising. We have a modified experience for viewers using ad blockers

Wikia is not accessible if you've made further modifications. Remove the custom ad blocker rule(s) and the page will load as expected.