Description
Edit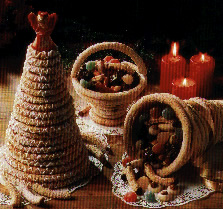 Almond wreath cake
Ingredients
Edit
Directions
Edit
Preheat the oven to 200°C.
Combine almonds and confectioner's sugar in a large saucepan.
Add the unbeaten egg white and mix.
Place the pan over low heat and knead.
Grease the ring pans for a 16 – 18 ring cake.
Spoon the dough into a cookie press with a wide round tip.
Press the dough into the rings.
Bake 12 – 15 minutes.
Cool slightly, then remove from the pans and cool completely.
For the icing, sift the confectioner's sugar and combine with egg white to make a thick icing.
Make a small cone of paper and cut off the tip.
Pipe on garlands of icing and stack.
Decorate with flags, bonbons or candy.
Ad blocker interference detected!
Wikia is a free-to-use site that makes money from advertising. We have a modified experience for viewers using ad blockers

Wikia is not accessible if you've made further modifications. Remove the custom ad blocker rule(s) and the page will load as expected.