Ingredients
Edit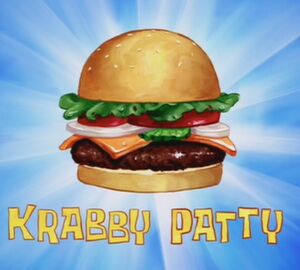 2 Buns with sesame seeds.
Two slices of Cheddar cheese. (use Kraft Cracker Barrel cheddar for best results).
3 1/4 cups of chopped onions.
1 teaspoon of salt.
Imitation Crab meat. (optional, as this may not be correct).
2 tomato slices, or diced tomatoes.(Amount of diced tomatoes varies to your liking.)
2 Angus Beef Patties.
Any seasoning to replace mysterious "X" secret ingredient. (optional, as this may not be correct).
Ketchup and Mustard, both on the top patty.
Lettuce (must)
Mayonnaise. (Optional and only heard and seen in the episode Planet of the Jellyfish).
Seaweed Sauce. (as revealed in Friend or Foe).
Melted Jars. (optional, as revealed to be part of the meat patty in Friend or Foe?)
Mushrooms. (optional, as revealed to be part of the krabby patty pizza in Pizza Delivery)
Pepperoni. (optional, as revealed to be part of the krabby patty pizza in Pizza Delivery)
Secret Sauce. (optional, as revealed in As Seen on TV)
Love (SpongeBob usually does this when making Krabby Patties)
4 pickle slices
Directions
Edit
Assemble and devour! Read here for more details about the Krabby Patty...
Mostly only a beef patty an lettuce is on them
Ad blocker interference detected!
Wikia is a free-to-use site that makes money from advertising. We have a modified experience for viewers using ad blockers

Wikia is not accessible if you've made further modifications. Remove the custom ad blocker rule(s) and the page will load as expected.