Description
Edit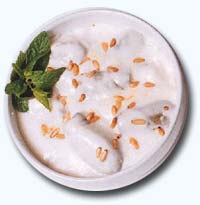 Ingredients
Edit
Directions
Edit
Cook yoghurt. Wash zucchini, cut off stem and hollow them with an Apple corer. Mix all ingredients of filling. Stuff zucchini. Put in a pot with water, salt, and 1/4 the quantity of cooked yoghurt. Cook over medium heat for 30 minutes. Add zucchini to boiling yoghurt, cook over medium heat for 15 minutes. Add crushed garlic with dried mint to mixture. Boil for another 5 minutes. Serve with spring onions and fresh mint.
Other Links
Edit
See also
Edit
Ad blocker interference detected!
Wikia is a free-to-use site that makes money from advertising. We have a modified experience for viewers using ad blockers

Wikia is not accessible if you've made further modifications. Remove the custom ad blocker rule(s) and the page will load as expected.