Prep Time: 20 minutes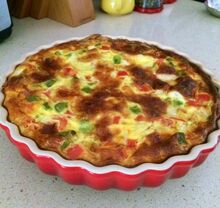 Cook time: 50-60 minutes
Serves: depends how hungry you are :)
Description
Edit
This is a quick and easy quiche recipe that always turns out delicious. You can really add any ingredients you want if you stick to the same base (pie crust / eggs / milk / cheese). I tend to enjoy veggies in my quiche. But bacon is delicious, too!
Ingredients
Edit
Store bought pie crust
6 eggs
1⅓ cup 2% milk
1 cup cheese ( any cheese works that is melty and delicious)
⅓ cup green bell pepper
⅓ cup red bell pepper
⅓ sweet onion
Salt & Pepper to taste
Directions
Edit
Follow instructions and bake the pie crust (usually calls for a different oven temp than the quiche, mine was 400°F)
While pie crust is baking combine eggs, milk, cheese, veggies, salt & pepper into a bowl
Pro tip: Let pie crust cool before adding quiche ingredients. While crust is cooling reduce oven temp to 375°F.
Once crust is cool pour in all quiche ingredients
Carefully slide pie curst and quiche ingredients into the 375°F oven and let cook for 50-60 min
After top is golden brown and eggs are set remove from oven and let cool
Cut into individual slices and enjoy!
Ad blocker interference detected!
Wikia is a free-to-use site that makes money from advertising. We have a modified experience for viewers using ad blockers

Wikia is not accessible if you've made further modifications. Remove the custom ad blocker rule(s) and the page will load as expected.