Description
Edit
Wine must cake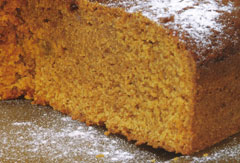 Ingredients
Edit
Directions
Edit
Add in a bowl the olive oil, water, wine must and crystallized sugar.
Mix well.
Mix well soda with lemon juice and add into the mixture.
butter a baking pan of 20 cm diameter and dredge some flour on its surface, to avoid sticking of the cake on the pan.
Pour mixture into the baking pan and bake in pre-heated oven for ½ hour in 170°C and for ½ hour in 160°C.
Let it become lukewarm before removing from pan (in order to be removed easier from pan) and dredge over some icing sugar.
Ad blocker interference detected!
Wikia is a free-to-use site that makes money from advertising. We have a modified experience for viewers using ad blockers

Wikia is not accessible if you've made further modifications. Remove the custom ad blocker rule(s) and the page will load as expected.