Description
Edit
This dessert is delicious, easy and fast to make. It can be served cold or warm with either whipped cream or ice cream.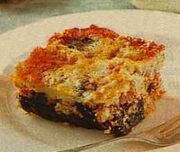 Ingredients
Edit
Directions
Edit
Remove the stones from the prunes and put them in an oven proof dish with the almonds.
Whip together the eggs, Sugar, vanilla Sugar and cream and pour over prunes and almonds.
The plum cake is baked on the middle shelf at 225 °C for 40 minutes until golden brown and set.
Serve hot or cold with whipped cream or vanilla ice cream.
Other Links
Edit
See also
Edit
Ad blocker interference detected!
Wikia is a free-to-use site that makes money from advertising. We have a modified experience for viewers using ad blockers

Wikia is not accessible if you've made further modifications. Remove the custom ad blocker rule(s) and the page will load as expected.