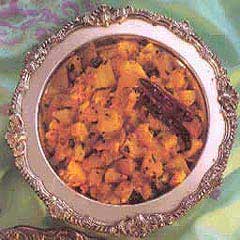 Description
Edit
Ethnicity - Kashmiri, North Indian
Type of meal - Party, Lunch, Dinner
Ingredients
Edit
Seasoning
Edit
Directions
Edit
Boil (take care not to over cook) and peel the potatoes, prick all over with a fork and deep fry in hot oil till brown.
Add garam masala, chilli powder, fresh and dry ginger, sugar and salt.
Mix well and keep aside.
Heat oil for seasoning in a kadai, add the seasoning ingredients, fry for few seconds, add the potatoes.
Add ½ cup of water, cover and simmer till dry.
Ad blocker interference detected!
Wikia is a free-to-use site that makes money from advertising. We have a modified experience for viewers using ad blockers

Wikia is not accessible if you've made further modifications. Remove the custom ad blocker rule(s) and the page will load as expected.