Description
Edit
(for four - five persons)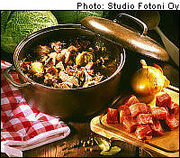 Ingredients
Edit
Directions
Edit
Cut the meat into cubes (4x4 cm). There is no need to remove small bones. Put the meat and coarsely chopped Onion in layers in a casserole, seasoning each layer with salt and allspice. Add enough water to almost cover the meat.
Bake without a cover at a moderate temperature, c. 175 °C, for 2 1/2-3 hours. Cover the casserole towards the end of the cooking time.
Serve with mashed Potato, boiled swedes and lingonberry purée.
Other Links
Edit
See also
Edit
Ad blocker interference detected!
Wikia is a free-to-use site that makes money from advertising. We have a modified experience for viewers using ad blockers

Wikia is not accessible if you've made further modifications. Remove the custom ad blocker rule(s) and the page will load as expected.