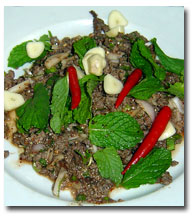 Ingredients
Edit
Directions
Edit
Sauté kangaroo till medium.
Remove and place into a bowl.
Combine all the ingredients together, mix well and serve with lettuce cups or jasmine rice.
Khao Koor
Edit
In a medium sized wok fairly hot, add 3 of tablespoons of uncooked jasmine rice.
Toss rice until it starts to turn golden brown.
Remove from the heat and allow to cool.
Grind to a fairly coarse powder with a mortar and pestle, or a blender.
Ad blocker interference detected!
Wikia is a free-to-use site that makes money from advertising. We have a modified experience for viewers using ad blockers

Wikia is not accessible if you've made further modifications. Remove the custom ad blocker rule(s) and the page will load as expected.