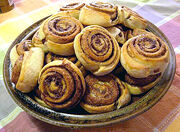 Ingredients
Edit
Directions
Edit
Melt margarine or butter, add milk and heat 115 F (45 C).
Dissolve yeast.
Add Sugar, cardamom (optional) and salt.
Stir until mixed.
Add flour, knead into dough.
Let rise until doubled (about 30 minutes).
Divide dough.
Use rolling pin to roll out large rectangle, about 1/4 inch thick.
Spread with margarine, some cinnamon and Sugar.
Roll up to a big roll, about 2 inches in diameter.
Cut 3/4 in thick slices, put onto greased cookie sheet.
Rise about 20-30 minutes.
Baste with whipped egg, add a little bit of Sugar on top, or Swedish pearl Sugar (available at most IKEAs or Swedish specialty stores).
Bake 450 F (225 C) about 7-10 minutes, until golden brown.
Eat with coffee!
Other Links
Edit
See also
Edit
Ad blocker interference detected!
Wikia is a free-to-use site that makes money from advertising. We have a modified experience for viewers using ad blockers

Wikia is not accessible if you've made further modifications. Remove the custom ad blocker rule(s) and the page will load as expected.