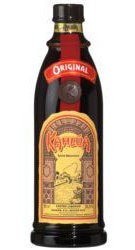 About Kahlúa
Edit
Wikipedia Article About Kahlúa on Wikipedia
Kahlúa is a famous Mexican coffee liqueur. It is heavy and sweet, with a very distinct taste of Mexican coffee, which gives it a dark brown colour. It has been produced by Allied Domecq which was acquired in 2005 by Pernod Ricard.
Alcohol content: formerly 26.5%, recently lowered to 20% in most markets to be more compatible with liquor laws in many areas. In 2003 a higher-priced premium product called Kahlúa Especial became available in the United States after previously being offered only in the Duty-Free market. Made with Arabica coffee beans, it has an alcohol content of 35% with lower viscosity and sweetness.
Ad blocker interference detected!
Wikia is a free-to-use site that makes money from advertising. We have a modified experience for viewers using ad blockers

Wikia is not accessible if you've made further modifications. Remove the custom ad blocker rule(s) and the page will load as expected.