Name Variations
Edit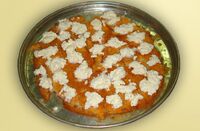 knafeh
kataifi
kadaifi dough
konafa
konafah
shredded phyllo dough
shredded phylo dough
shredded filo dough
shredded fillo dough
About Kadaif
Edit
Wikipedia Article About Kadaif on Wikipedia
Kadaif is a very fine spaghetti-like pastry. It was probably introduced through the Ottomans. The strings are interlaced and then drenched in sugar syrup. Sometimes nuts are added to the mix for flavour.
Ad blocker interference detected!
Wikia is a free-to-use site that makes money from advertising. We have a modified experience for viewers using ad blockers

Wikia is not accessible if you've made further modifications. Remove the custom ad blocker rule(s) and the page will load as expected.