Description
Edit
This is a nicely spiced vegan curry that one can easily add bean curd or slices of meat or seafood to if they wished. They call this jungle curry because it has no coconut milk, and no coconuts grow in the jungles of northern Thailand. Not every curry needs coconut milk, and this is even great for those on a heart-healthy diet.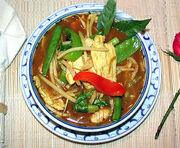 Ingredients
Edit
Curry paste
Edit
Directions
Edit
Prepare curry paste by mixing in a food processor or blender.
Add vegetables, coating thoroughly with curry paste, and cooking until almost crisp-tender.
Cook until vegetables are done to your liking.
Ad blocker interference detected!
Wikia is a free-to-use site that makes money from advertising. We have a modified experience for viewers using ad blockers

Wikia is not accessible if you've made further modifications. Remove the custom ad blocker rule(s) and the page will load as expected.