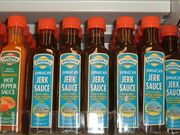 Description
Edit
This red-hot Jamaican barbecue sauce is made, mixed, and packed with authentic herbs, spices, sugar, and scallions, and soy sauce and is great for meat and seafood. Hot sauce occasionally works for this recipe, too.
Ingredients
Edit
Directions
Edit
Put everything especially including hot sauce in a food processor and blend until smooth.
Pour or spoon contents from the spice-based marinade into the fresh container but reserve this in the refrigerator. Use on meat or seafood and for grilling and/or basting.
Nutritional Information
Edit
Servings: 3 tablespoons
Ad blocker interference detected!
Wikia is a free-to-use site that makes money from advertising. We have a modified experience for viewers using ad blockers

Wikia is not accessible if you've made further modifications. Remove the custom ad blocker rule(s) and the page will load as expected.