Description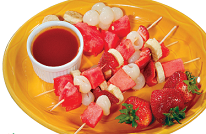 Fruit skewers make a great snack or a side dish to a meal that includes fish. The skewers also make a tasty dessert.
Cook Time: 20 minutes
Serves: 4
Ingredients
Directions
Soak eight 6-inch-long skewers in cold water for 30 minutes so they will not burn during cooking.
Preheat the broiler or grill. Drain wooden skewers.
Alternately thread banana chunks, watermelon chunks, litchis, and strawberries on each skewer.
Brush fruit with the plum sauce.
Place kebabs on rack in the grill or on a broiler pan. Cook 5 minutes, turning frequently. Serve hot and plain or with other desserts.
Notes
↑

Plum sauce can be found in the Asian foods section of your local grocery store.
Nutritional Information
Servings: 2 skewers per plate
Ad blocker interference detected!
Wikia is a free-to-use site that makes money from advertising. We have a modified experience for viewers using ad blockers

Wikia is not accessible if you've made further modifications. Remove the custom ad blocker rule(s) and the page will load as expected.