Description
Edit
A simplified alternative to teriyaki is made with chicken grilled to perfection.
Ingredients
Edit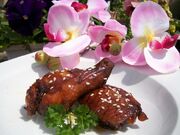 1 lb chicken drummettes
1 cup sugar
1 cup soy sauce
1 cup red wine
sesame seeds, toasted
parsley
Directions
Edit
Rinse off chicken.
Combine all ingredients, except chicken, and bring to a boil. Leave on a low boil for 15 minutes.
Add in chicken drummettes. Let boil for one hour or more until it all thickens and becomes sticky.
Then let it stand for about 10 minutes and then refrigerate.
Grill the boiled chicken for 5-10 minutes, on each side. Sprinkle with sesame seeds once arranged on platter and garnish with parsley.
Ad blocker interference detected!
Wikia is a free-to-use site that makes money from advertising. We have a modified experience for viewers using ad blockers

Wikia is not accessible if you've made further modifications. Remove the custom ad blocker rule(s) and the page will load as expected.