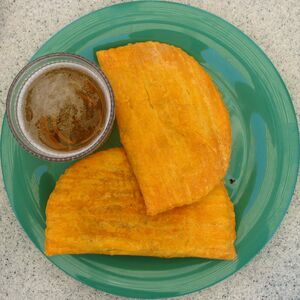 A Jamaican patty is a pastry that contains various fillings and spices baked inside a flaky shell, often tinted golden yellow with an egg yolk mixture or turmeric. It is made like a turnover but is more savory. As its name suggests, it is commonly found in Jamaica, and is also eaten in other areas of the Caribbean, such as Costa Rica's Caribbean coast. In Haiti, the pastry is thick and crispy, making it essentially a turnover. It is traditionally filled with seasoned ground beef, but fillings can include chicken, vegetables, shrimp, lobster, fish, soy, ackee, mixed vegetables or cheese. In Jamaica, the patty is often eaten as a full meal, especially when paired with bread. It can also be made as bite-sized portions called cocktail patties. Among the Jamaican diaspora in the UK, the pastry is more like that of a suet crust, and often made with the fat from Curry Goat which provides the yellow color.
Ad blocker interference detected!
Wikia is a free-to-use site that makes money from advertising. We have a modified experience for viewers using ad blockers

Wikia is not accessible if you've made further modifications. Remove the custom ad blocker rule(s) and the page will load as expected.