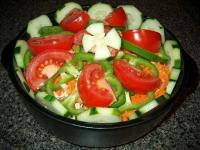 Ingredients
Edit
4 cups lettuce (shredded or thinly sliced)
4 carrots (shredded)
1 yellow pepper (sliced into rings)
1 tomato (cut into 8 wedges)
½ cucumber (peel on, round slices)
Directions
Edit
Place lettuce into bottom of serving bowl.
Top with carrot.
Next, the yellow pepper.
Slide the cucumber slices down the side of the bowl, so that they are"standing" on the inside of the bowl, surrounding your salad, and you can see half of each slice sticking out.
Put the tomato wedges on the top of the salad.
Ad blocker interference detected!
Wikia is a free-to-use site that makes money from advertising. We have a modified experience for viewers using ad blockers

Wikia is not accessible if you've made further modifications. Remove the custom ad blocker rule(s) and the page will load as expected.