Ingredients
Edit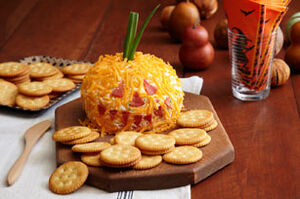 Directions
Edit
Beat cheeses, pumpkin, preserves and spices in a medium bowl until smooth.
Cover; refrigerate 2 to 3 hours or until cheese is firm enough to shape.
Shape mixture into a round pumpkin; place on serving plate.
Using knife, score vertical lines down pumpkin.
Place pretzel rod in top for stem.
Cut 2 small triangles for the eyes.
Small triangle of red pepper for nose.
Slice olives slices in half for the mouth.
Cover loosely; refrigerate until serving time.
Serve with crackers.
Ad blocker interference detected!
Wikia is a free-to-use site that makes money from advertising. We have a modified experience for viewers using ad blockers

Wikia is not accessible if you've made further modifications. Remove the custom ad blocker rule(s) and the page will load as expected.