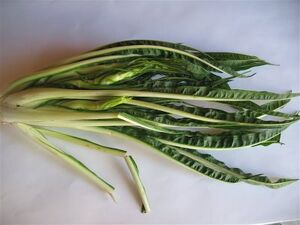 Although not a true dandelion, it is part of the chicory family, this green looks almost identical to its namesake. The main difference is that the jagged-edged leaves are a deeper green and slightly larger. The Italian dandelion has a tangy, slightly bitter flavor. It can be cooked as well as used in salads. Refrigerate, tightly wrapped in a plastic bag, up to 5 days. Wash thoroughly just before using.
Ad blocker interference detected!
Wikia is a free-to-use site that makes money from advertising. We have a modified experience for viewers using ad blockers

Wikia is not accessible if you've made further modifications. Remove the custom ad blocker rule(s) and the page will load as expected.