Description
Edit
This is the spinach Filling often found in those Turkish savoury pastries known as borekler.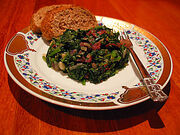 Ingredients
Edit
Directions
Edit
Clean the fresh spinach well removing damaged or discolour bits.
Chop coarsely. Place fresh spinach in a large pan, cover and put over medium heat for 7–8 minutes.
Cook only until wilted.
Place fresh wilted or defrosted frozen spinach in a sieve and press with the back of a spoon to extract moisture.
Transfer to a bowl.
Gently fry the Onion in the oil until transparent and add this to the spinach with Cheese, egg and Parsley.
Ad blocker interference detected!
Wikia is a free-to-use site that makes money from advertising. We have a modified experience for viewers using ad blockers

Wikia is not accessible if you've made further modifications. Remove the custom ad blocker rule(s) and the page will load as expected.