Description
Edit
Irish Tea Bread (original name: Brack Irish Tea Bread) is a moist, dense fruit cake. It's best served sliced thinly with butter and eaten before it has cooled down.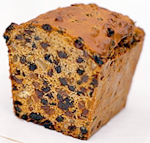 Ingredients
Edit
Directions
Edit
Chop fruit to raisin-size pieces.
Brew tea in hot water.
In a bowl, combine tea and mixed fruit.
Leave to soak for at least 2 hours (soaking overnight is best).
Preheat oven to 360°F (175°C).
Sieve the flour and bicarbonate of soda and fold mixture in.
Line bottom of loaf pan with baking parchment or greaseproof paper.
Pour mixture in loaf pan and smoothen the top.
Bake for 1½ hours.
Remove from pan.
Cool, or serve warm.
Ad blocker interference detected!
Wikia is a free-to-use site that makes money from advertising. We have a modified experience for viewers using ad blockers

Wikia is not accessible if you've made further modifications. Remove the custom ad blocker rule(s) and the page will load as expected.