Description
Edit
A yummy fudgy-minty brownie that's sure to be a hit with everyone. Makes 25 brownies.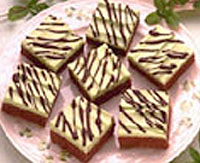 Ingredients
Edit
Brownies
Edit
Drizzling
Edit
Directions
Edit
Preheat oven to 350°f (175°C).
Stir constantly for 4–5 minutes or until smooth.
Add and stir in the rest of brownie ingredients.
Mix well.
Spread mixture in a greased 9-inch square baking pan.
Bake for 250–30 minutes or until brown is pulling away from the sides of the pan.
Cool.
In mixer bowl, mix all filling ingredients except the chocolate.
Beat at medium speed until mixture has creamy consistency.
Spread over cooled brownie.
Drizzle with melted chocolate.
Cut into bars and store in fridge.
Ad blocker interference detected!
Wikia is a free-to-use site that makes money from advertising. We have a modified experience for viewers using ad blockers

Wikia is not accessible if you've made further modifications. Remove the custom ad blocker rule(s) and the page will load as expected.