Description
Edit
Icelandic Donuts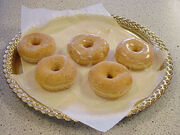 Ingredients
Edit
Directions
Edit
Beat eggs slightly and add sugar and beat some more. Gradually add the sour cream mixed with soda and milk alternately with the dry ingredients. This will take about 4 1/2 cups of flour. Mix it and pour out onto the floured board and divide into three portions and roll each out to approx. 1/4 inch thick and cut into 1 inch wide strips and then into about 2 1/2 inch long pieces. Put a slit in the centre of each and fold one end through the slit.
Fry in deep fat Crisco in an electric deep fryer at about 375 degrees. Keep turning them till they are golden brown, about 3 minutes.
After they have drained on paper towel, sprinkle with powdered sugar when ready to serve.
Other Links
Edit
Ad blocker interference detected!
Wikia is a free-to-use site that makes money from advertising. We have a modified experience for viewers using ad blockers

Wikia is not accessible if you've made further modifications. Remove the custom ad blocker rule(s) and the page will load as expected.