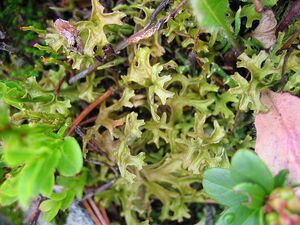 Iceland moss (Cetraria islandica) is a lichen whose erect or ascending foliaceous habit gives it something of the appearance of a moss, whence probably the name. It is often of a pale chestnut color, but varies considerably, being sometimes almost entirely greyish white; and grows to a height of from 3 to 4 in., the branches being channelled or rolled into tubes, which terminate in flattened lobes with fringed edges.
It is no longer widely used, but in earlier times, it was much more widely used in breads, porridges, soups etc.
Ad blocker interference detected!
Wikia is a free-to-use site that makes money from advertising. We have a modified experience for viewers using ad blockers

Wikia is not accessible if you've made further modifications. Remove the custom ad blocker rule(s) and the page will load as expected.